By far, this is the best plugin I've tried to speed up WordPress websites. Let our Google PageSpeed score do the talking (click to see it).
The results are really amazing.
Nitropack can also be used for Magento, OpenCart, WooCommerce, and custom websites.
Make sure to use the coupon code: brodneil to get a 5% discount.
NitroPack is a cloud-based performance optimization platform that aims to improve your website speed significantly. Does it really work?
In this post, we will share with you how NitroPack improves your site speed and what users have to say about the software. We will also share with you our experience using NitroPack on our website.
Before we talk about NitroPack, let us first talk about website performance optimization.
What is website performance optimization
Website performance optimization is the process of improving the speed and efficiency of your page to make it load faster and reduce load times. This encourages the users to visit, read, and purchase or transact with you than slower websites.
With improved website speed and better user experience, you can also help improve your Google ranking. These factors have been part of Google algorithms under usability of webpages that determine whether your page is easy to use or not.
How to optimize your website performance
Website performance optimization can be achieved by using different tools, plugins, and strategies including the following:
1. Rewriting/refactoring your website's code
One way to optimize your website performance is to rewrite its code. This is suitable for websites that are heavily customized with too much JavaScript. However, if you are using a content management system (CMS) like WordPress, you may face limitations as to what you can change. Rewriting or refactoring your website's code is effective, but it can also be costly and time-consuming.
2. Using multiple plugins for different website aspects
If you have a simple website, you can use different plugins for certain aspects of your website. However, you also need to consider that having many plugins can slow down your page. You may also be encountering plugin integration problems.
3. Utilizing an integrated website performance optimization tool
These tools like NitroPack integrate tools for you without the need to use multiple plugins. If your website is heavily customized with JavaScript, you can combine both the use of NitroPack and code refactoring for better results.
What is NitroPack
NitroPack is a world-class cloud-based performance optimization. It is everything you'll ever need for speed optimization in a single all-in-one innovative solution. In addition, it is a cross-platform tool that can be used with many content and eCommerce platforms like WordPress, OpenCart, WooCommerce, and Magento.
It is a way for you to speed up your website effortlessly.
Here are some features you might want to know:
Advanced Caching Mechanism
NitroPack ensures a high cache hit ratio with tons of advanced features like:
Smart cache invalidation;
Automatic cache warmup;
Device and cookie-aware caching;
Browser and session-aware caching.
Complete Image Optimization Stack
NitroPack takes care of all image optimization aspects, including:
Lossy and lossless image compression;
Advanced Lazy loading (including background images defined in the CSS);
Preemptive image sizing;
WebP conversion (when supported by the browser).
Adaptive Image Sizing.
And everything else you need for a fast website
Built-in global CDN;
World-class proprietary speed algorithm;
HTML, CSS and JS minification & compression;
Critical CSS, DNS prefetching, preloading, and more.
Here is a complete list of their features:
NitroPack will create an optimized HTML cache so that users find your page fast to load. Fast website speed will enhance user experience and will result in users viewing more of your pages. This may lead them to take action, such as subscribing and purchasing.
A fast website can also increase your website score, important for your SEO (search engine optimization) ranking in Google and other search engine platforms.
Why use NitroPack
Who wants to wait for a slow website to load? Nobody does. It's annoying and a waste of time. NitroPack claims to increase your website speed and they have evidence from the Core Web Vitals (CWV) Technology Report to back it up. In their recent blog, NitroPack shared that they currently have the highest percentage of origins passing the Core Web Vitals assessment in comparison with other website speed optimization tools.
In the same source, websites that utilize NitroPack score beyond the average for their respective CMS or platform.
So if you want a reliable tool that will give you more pageviews, more interaction, less bounce rate on your website, and better website score, then NitroPack could be a great solution.
World's first global core web vitals report ranks NitroPack as a leading speed optimization solution.
How to use NitroPack
You don't have to be intimidated to use NitroPack as it does not require any technical skills. If you are using WordPress, WooCommerce, Magento, or OpenCart, simply install the NitroPack extension. Then, follow the instructions from NitroPack Help Center for a very easy and quick setup. Once installed, NitroPack will automatically optimize the pages in your website.
NitroPack Subscription Packages
NitroPack offers a free trial and a paid subscription that is billed monthly or annually. They are called Scale, Growth, Business, and Free.
Monthly Pricing
Yearly Pricing
What users are saying about NitroPack
While we hope the NitroPack software really works as promised, it is always a smart idea to find out what actual users have to say about NitroPack. Therefore, we gathered some reviews from WordPress, Hustlr.com, bloggingx.com, and iwebsitez.com.
Pros
According to NitroPack users, here are the things they liked about using the software:
"has improved our Google page speed insights scores very much and the sites now load at lightning-fast speeds"
"Affordable pricing", "value for money"
"Simple to install and setup", "very easy to install and configure"
"Easy to manage"
"Easy to flush the cache for individual pages"
"Reduces quite a lot in most cases the number of requests"
"Amazing results after installation"
"Results also show up almost immediately"
"Tech support team works round the clock to resolve your queries and monitor your website"
"Great service"
Cons
The software seems really impressive, but some users think NitroPack can still improve by addressing the following problems.
"Can affect ad scripts, but can be overcome"
"Can take a little time to show changes"

Note: In our experience using WordPress, once you click update, the change is immediate (even if you are logged out). There are things to consider though like if your homepage is showing dynamic content from widgets, then you will have to click update on the homepage for those changes on the widgets to show up immediately. If the widgets are shown sitewide and you can't wait for the cycle to complete. do a purge in Nitropack's dashboard and you'll get the immediate change.

"Database optimization can be tricky"
"Would've been nicer if there was a way to contact them via email or phone"

Note: There is indeed a way to contact them via Nitropack's dashboard.

"poor customer support on weekends"

Note: In our experience, support has been great from the very beginning that is through inquiry and trial until this time.
What we say about NitroPack
Allow me to let our Google PageSpeed Score tell you what Nitropack can do.
Google PageSpeed Score: Mobile
Google PageSpeed Score: Desktop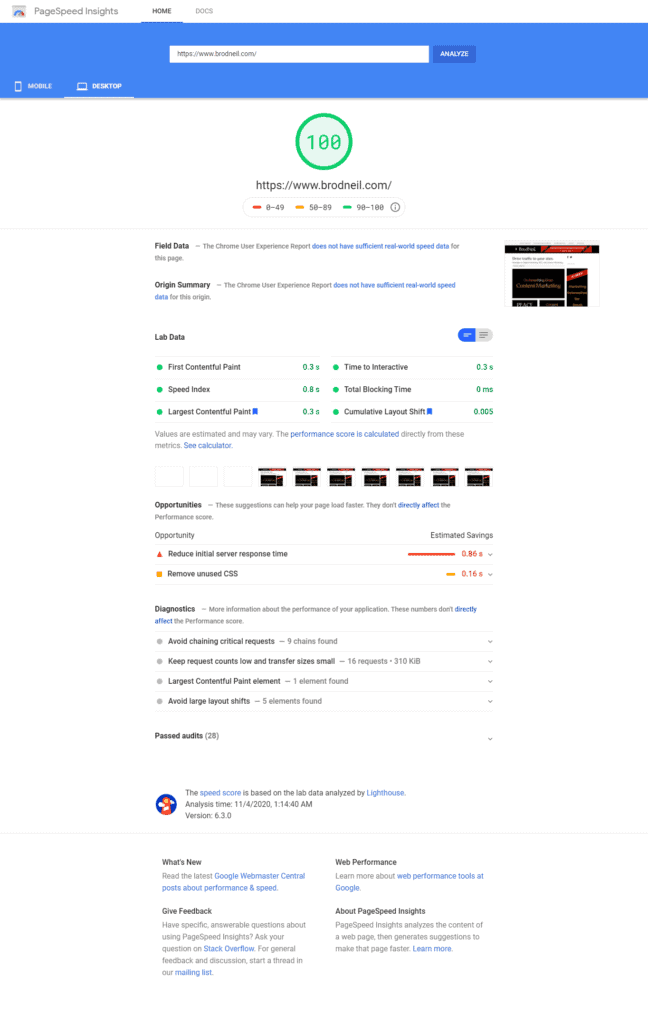 Google Adsense and Nitropack
I know for a fact that Google Adsense Installation Slows Down My Site or Drops My Google PageSpeed Insights Score Significantly.
With Nitropack, this is no longer an issue.
Here is something I just learned today (2020 11 9), and I got this from Deyan of Nitropack.
If you would enable Google Ads on the site, enable the Optimize Ads option under Settings.
Nitropack Support
What is a great product without great support? Nitropack support is actually amazing. They are quick to reply, and they make things easy for the subscribers or users.
Is Nitropack a black hat SEO speed optimization plugin?
The quick answer is no.

From experience, our pages are now loading quickly, which benefits our users. PageSpeed score is just a way to measure. Ultimately, the experience of the site's visitors would determine if Nitropack does help or not.

Here is a quick word from the CEO of Nitropack on the most common myths about how NitroPack optimizes your site.
Nitropack cheating?
Nitropack is a performance optimization plugin for websites. It is designed to improve website loading speed and overall performance. It uses a combination of caching, image optimization, and code minification to speed up the website.
While the plugin can help improve website performance, it is not considered "cheating" as it does not manipulate any content or break any rules. It is a legitimate tool that can be used to improve website performance.
But this is subjective, and it's best to check on multiple sources and reviews before making any decision.
Conclusion
It is the BEST tool to increase your Google PageSpeed Insights score.
We have also checked the results on other website speed performance tools, and the results are the same.

Nitropack is, for us, the Best website speed performance tool.
By the way, for this website, we used the ludicrous mode and added a custom CSS on the Nitropack dashboard for our PWA loading issue.
Normally, there is nothing really to tweak in Nitropack. However, if you want to speed up the caching time, particularly for newly installed/activated Nitropack —– use the Cache Warmup feature in your Nitropack dashboard.
Update
We've retested today via Google PageSpeed Insights.
We are still getting quality scores for both mobile and desktop: https://developers.google.com/speed/pagespeed/insights/?url=https%3A%2F%2Fwww.brodneil.com%2F.
With some caching plugins before Nitropack, they tend to work when recently installed; but after some time, PageSpeed scores tend to go down, and you'd need to do some tweaking again.
With Nitropack, it works with less hassle or no hassle at all.