Last Updated: 2 weeks ago by BrodNeil
Wise is a financial service that allows you to convert money between different currencies. Wise has an auto-conversion feature.
There are limits to the number of pending auto conversions you can have open at any time, with a maximum of 15. There are limits to the amount of money you can convert to or from certain currencies, which are the same as the limits for normal live-rate conversions.
Big Changes Coming to Wise Account Regulations! [Attention Filipinos]
Starting from 20 September 2023, Wise.com is changing how Wise Account is regulated in the Philippines. If your address is in the Philippines, Wise.com will add 12% VAT (Value Added Tax) on every fee you pay to Wise.
Is it still worth using Wise.com? Will PayPal become the go-to for Filipinos?
Convert and Send Money at Low Rates using Wise.com
Wise.com was founded as TransferWise in 2011 to make international money transfers more accessible, faster, and less expensive. Their goal is to keep driving down prices until it is free to create a Wise cross-border transfer.
It now has over 12 million customers and delivers payments totaling around $8 billion monthly to over 80 countries worldwide.
Key features:
You can create an account for free.
Send money internationally or open a multi-currency account to keep and exchange 50+ currencies.
No markups are added to the mid-market exchange rate, and all expenses are fully displayed before you confirm any transaction.
Wise has its own payment network rather than depending on the old SWIFT network used by banks, which is a modern method of international money transfer.
---
Low rates
Use the Wise.com homepage calculator to know how much the exchange rate would be if you use Wise. You'll see their fees and exchange rate immediately if you don't log in. So you can always double-check to ensure you're getting a good deal.
Wise.com also has a pricing comparison tool for several currencies to help you make an informed decision. You can compare Wise's price with other leading companies that also offer fund transfer services like Western Union, Money Gram, and PayPal.
Holding currencies
You can fund your account with any of the following currencies:
Australian Dollar (AUD)
Bulgarian Lev (BGN)
Brazilian Real (BRL)
Canadian Dollar (CAD)
Swiss Franc (CHF)
Czech Koruna (CZK)
Danish Krone (DKK)
Euro (EUR)
Pound Sterling (GBP)
Croatian Kuna (HRK)
Hungarian Forint (HUF)
Japanese Yen (JPY)
Malaysian Ringgit (MYR)*
Norwegian Krone (NOK)
New Zealand Dollar (NZD)
Poland złoty (PLN)
Romanian Leu (RON)
Swedish Krona (SEK)
Singapore Dollar (SGD)
Turkish lira (TRY)
United States Dollar (USD)
*Only Malaysian residents can immediately top up their MYR balance using MYR.
You can hold more than 50 currencies in your account and convert money between any of these currencies at the current exchange rate.
How to send money with Wise
Wise aims to create a better, more affordable, and more equitable system for everybody, whether you are traveling or doing business across borders.
With Wise.com, you should find that your fees are always reasonable and that you receive the actual exchange rate. The same ones that large firms and banks receive. However, Wise offers those rates as well.
Create your free account
You can create your Wise account for free, and your receiver does not need to use Wise.com for you to send money to them. You can sign up as a person, or if you own a business, you can add it to your Wise.com account.
You can sign up using your email address or connecting to your Google or Facebook account. To sign up using your email address, just follow these steps:
Step 1: Go to Wise.com's registration page.
Step 2: Choose if you're making a personal or business account and enter your email address, password, and country of registration/residence.
Step 3: Enter your phone number and wait for the verification code.
Step 4: Enter the 6-digit code and confirm your email.
Step 5: Choose what account you'd be making.
Step 6: Input your personal information.
You're done! You can now access Wise.com using a desktop or mobile, Android and iOS.
Enter the amount you want to transfer & fill in your details
You can begin with the amount you want to send or the amount you wish your receiver to receive. Just click on "Send money" and fill in the necessary information needed.
If your recipient must get the exact amount, enter it in the box, Recipient gets. It will automatically show you how much you would need to send.
Wise would then ask you what kind of transfer it will be; if you're paying in from a personal bank account, it's a Personal transfer.
Afterwhich, fill in your details.
Add your receiver's details
Choose to whom you'll be sending the funds and input the receiver's bank details if you have them, and wise will transfer the funds to that account.
If you don't have their bank account information, just input their active email address. Wise will check if the email has a Wise account. They'll send an email requesting their bank information if they are not on Wise.
Review the details, and choose your transfer type and how to pay
Check that everything is in order.
Wise will then tell you how much each option will cost and how long it will take for the money to arrive.
Paying from your bank account is frequently the most cost-effective option. You'll have to open your online banking or go to a branch to transfer funds to Wise.
They will confirm the transfer through email or in the app once they have received your money. They'll also notify you and the beneficiary when the money arrives.
Auto conversion of currencies
Auto Conversions allow you to select an exchange rate and an amount to convert between two eligible currencies. They monitor the market and convert your money automatically when your preferred or higher rate is met.
What is the process of auto-conversion?
You select the currencies: Tell Wise which currencies you wish to convert.
You set the rate: Your desired exchange rate for the conversion.
You choose the amount: Select the amount of money to convert.
Set it and forget it: We'll keep an eye on the market and convert your money when your preferred rate – or one that is better than your desired rate – is met. Wise also notifies you when your money is converted or if it fails for any reason.
Configuring Auto Conversion
You can make an Auto Conversion in two places when registered into your Wise account on the web.
When converting from a qualified currency, once you're in the activity home for the eligible currency, click "Convert," enter the amount of money to convert, and you'll have the option to turn on "Auto Convert." When you turn on "Auto Convert," you may select your target FX rate and the amount of money you want to transmit between two currencies.
Login to Wise, and go to the 'Manage' tab. On the 'Manage' page, you may view your existing Auto Conversions and create new ones. Click "Create Auto Conversion" once you're there to create a new Auto Conversion.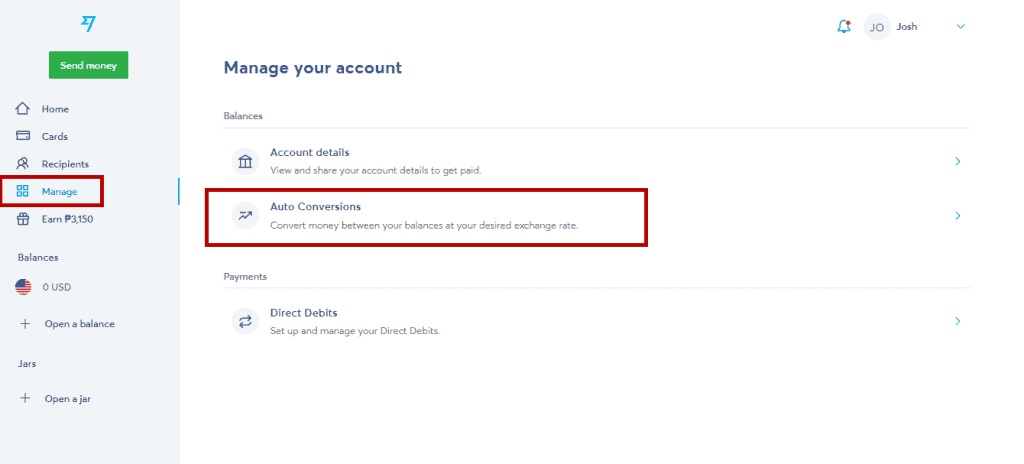 Deleting an existing Auto Conversion
You can delete your existing Auto Conversions and create a new one. You can do this on your Wise account's "Manage" tab under "Auto Conversions."
Which currencies support Auto Conversion
Wise supports Auto Conversions to/from any of the 24 currencies listed below: USD, CAD, GBP, EUR, AUD, JPY, CHF, NZD, SGD, MXN, HUF, NOK, SEK, DKK, PLN, CZK, RON, BGN, INR, BRL, THB, PKR, PHP, IDR.
Open a virtual US bank account with Wise.com
Suppose you are a foreigner in the United States or anyone living outside America and wish to open an American bank account. In that case, you have several options to choose from.
While traditional large banks have strict requirements, neobanks have a much easier application process. In addition to these two groups, foreign entrepreneurs and small business owners can benefit from online business bank accounts. Finally, bank-like alternatives like Wise.com simultaneously provide almost the same services with the lowest qualifying restrictions.
Aside from its money transfer service, Wise.com also provides a multi-currency account with a debit MasterCard. Its key advantage is that it lets you hold money in over 50 currencies and includes account information for 10 of them, including USD, EUR, and GBP.
Wise's account may be a viable option if you need to be paid outside of the United States. However, remember that their multi-currency account is not a bank account and hence is not FDIC-insured. The money you keep on it is safe, but not as much as it would be with most traditional bank accounts.
Features
Wise's account comes with valid banking details in many countries and currencies, including US dollars, making it a significant advantage. Your Wise USD account will be managed by Community Federal Savings Bank (CFSB) and Evolve Bank and Trust (EVOLVE). It will include the following information that is unique to you:
ACH routing number
Wire routing number
Account number
SWIFT/BIC code
This means you'll be able to spend and be paid in the United States exactly like a resident, as well as convert your USD balance into your home currency without incurring expensive bank costs.
This is one of the quickest and easiest ways for a non-resident to open a US bank account. Whether you want to hold money in USD, spend on vacations, shop online, or get wages in USD.
Conclusion
Wise.com was created to make sending money abroad easier, faster, and less expensive. It has built its payment network to eliminate the inefficiencies and excessive fees associated with transmitting foreign payments.
Wise.com's objective to offer fair fees while continuing to bring down expenses necessitates a truly open pricing scheme. There are no hidden or bundled fees; your charges are displayed before you fund your Wise payment. Suppose you frequently receive, hold, or exchange currencies. In that case, the Wise multi-currency account for individuals and corporate customers may be beneficial. You'll always get the actual conversion rate and may store and manage 50+ currencies in one location.