Last Updated: 2 days ago by BrodNeil
Have you considered using AI writing tools to enhance your writing skills? With the help of AI-powered tools, you can improve your grammar, sentence structure, and vocabulary usage. These tools can also suggest ideas and help you organize your thoughts. Give it a try and see the difference it can make in your writing!
You already know that crafting original and articulate content is key. This is where Paraphrasingtool.ai comes into play, promising not just a solution for rewording text but a complete toolkit tailored to the diverse needs of writers in 2023.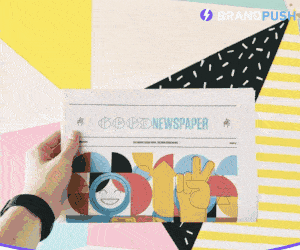 In this review, we will delve into the depths of ParaphrasingTool.ai, exploring its features, efficiency, and overall value.
Does it live up to its claims of being a comprehensive assistant for writers?
Let's find out!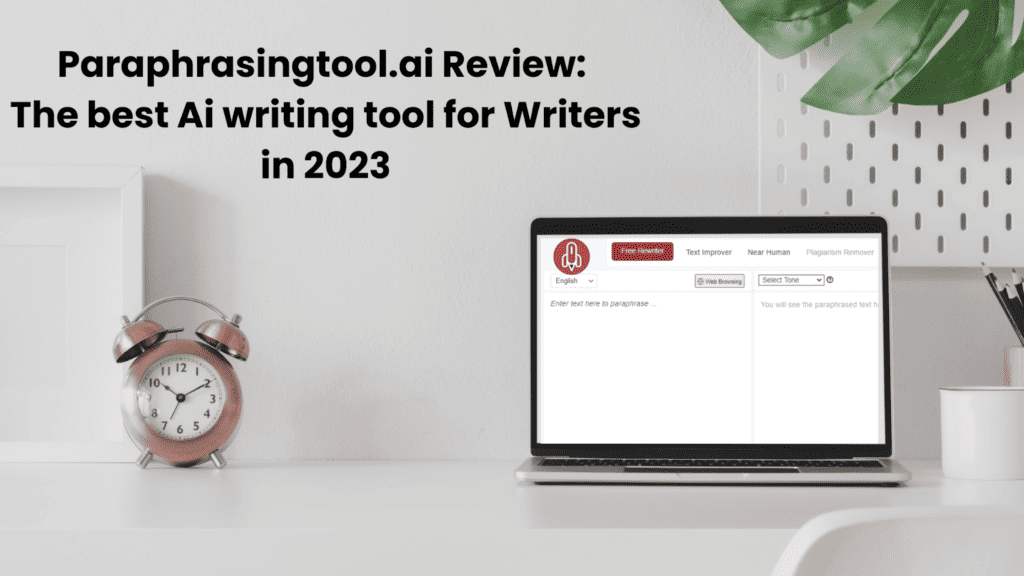 My Personal Review
Being a content writer who frequently engages with AI writing tools, I've navigated my way through numerous platforms in search of the perfect tool.
Paraphrasingtool.ai, one of the best AI writing tools in the market today, has caught my attention in this crowded space with its distinctive functionalities and intuitive design. In this candid review, I will unpack the features of Paraphrasingtool.ai, examining its performance, advantages, potential drawbacks, and pricing plans.
Exploring Paraphrasingtool.ai
Paraphrasingtool.ai has a generous suite of over 30 writing and editing tools. These tools are designed to cater to myriad needs, from basic paraphrasing to advanced sentence restructuring and content generation from scratch, ensuring that users have all the resources they need at their fingertips.

At the heart of this expansive toolkit lies the Paraphrasing Tool's flagship feature. This feature is engineered to elevate your writing by refining and rephrasing your content while maintaining the original intent and tone. It acts as a comprehensive assistant for writers, breathing new life into stale or repetitive phrases and enhancing the overall readability and structure of the text.
Who Is It For?
ParaphrasingTool.ai is designed as a versatile tool that caters to a broad spectrum of users. Here's a closer look at who can benefit the most from this platform:
Support Our Affiliate Partner: Grab Your FREE Plan Now!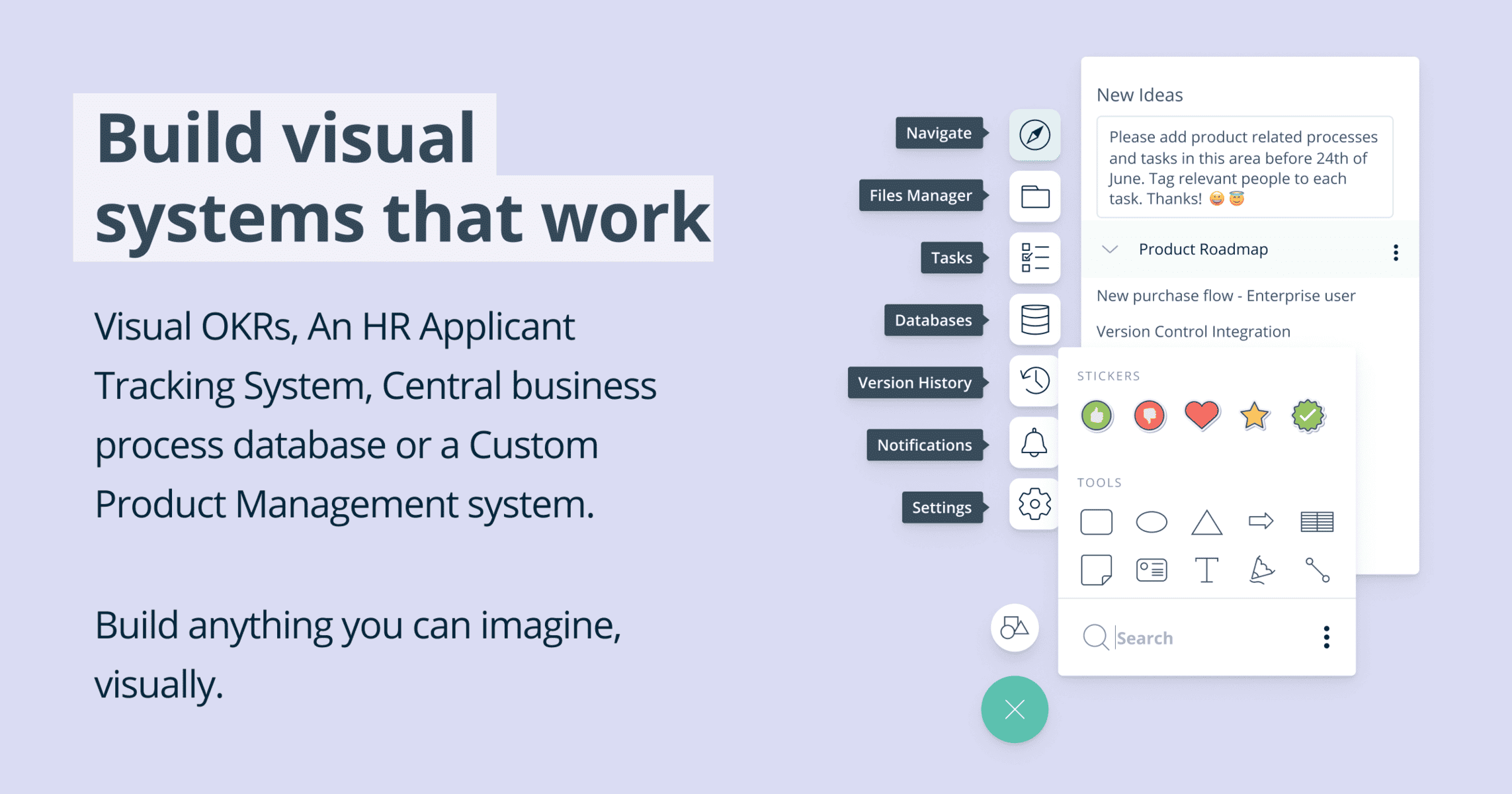 Writers
Paraphrasingtool.ai offers various AI tools for writers, from novelists to scriptwriters, that can help refine and polish drafts.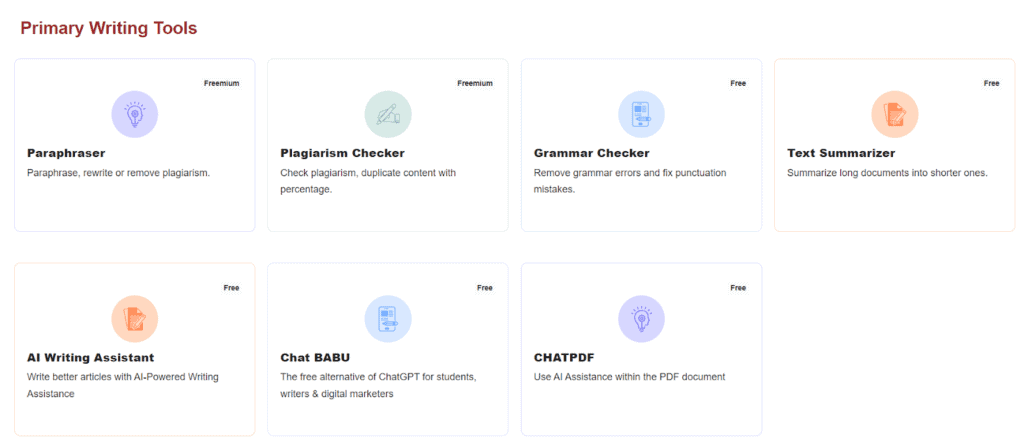 These tools are:
Paraphraser
Plagiarism checker
Grammar Checker
Text Summarizer
AI Writing Assistant
Chat BABU
ChatPDF
Bloggers
For bloggers aiming to keep their content fresh and engaging, Paraphrasingtool.ai offers a range of generators and tools, including: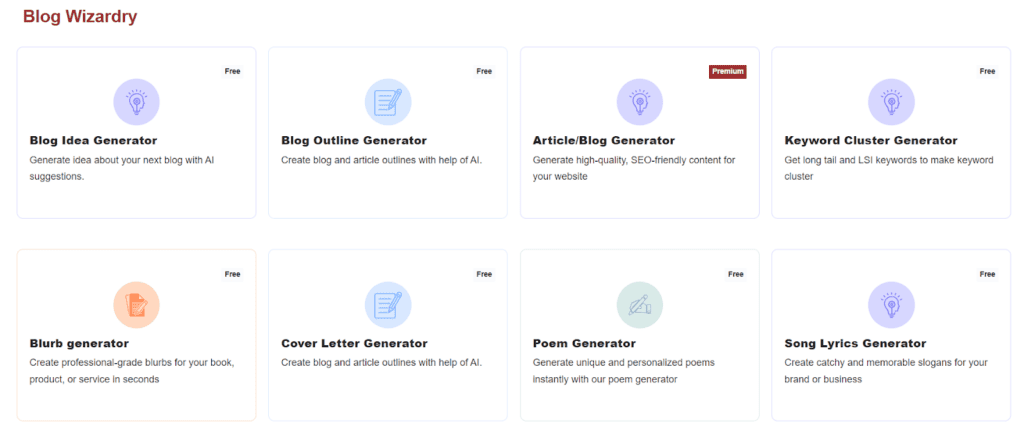 Blog Idea Generator
Blog Outline Generator
Article/Blog Generator
Keyword Cluster Generator
Blurb Generator
Slogan Generator
Students and Researchers
For students and researchers, Paraphrasingtool.ai offers tools, including: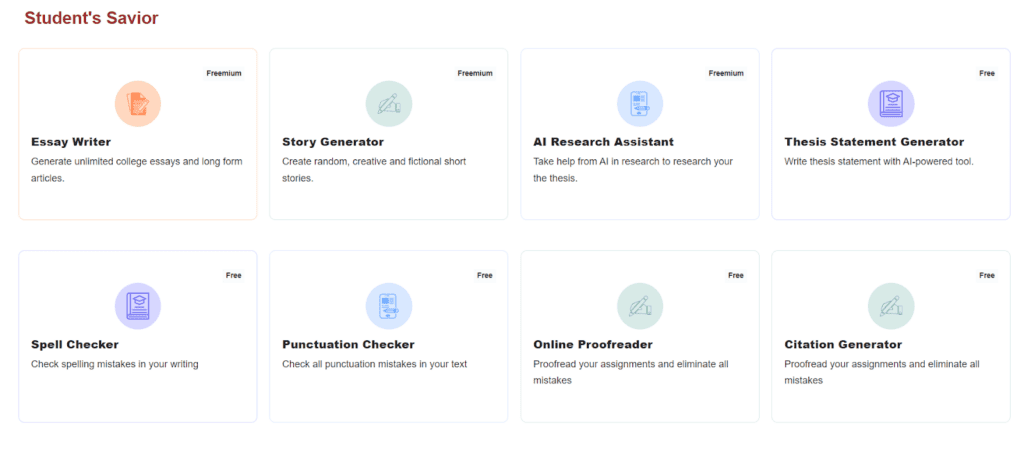 Story Generator
AI Research Assistant
Thesis Statement Generator
Citation Generator
Spell Checker
Punctuation Checker
Online Proofreader
Freelancers
For freelancers who are always on the clock, Paraphrasingtool.ai provides a range of generators and tools that speed up content creation, including: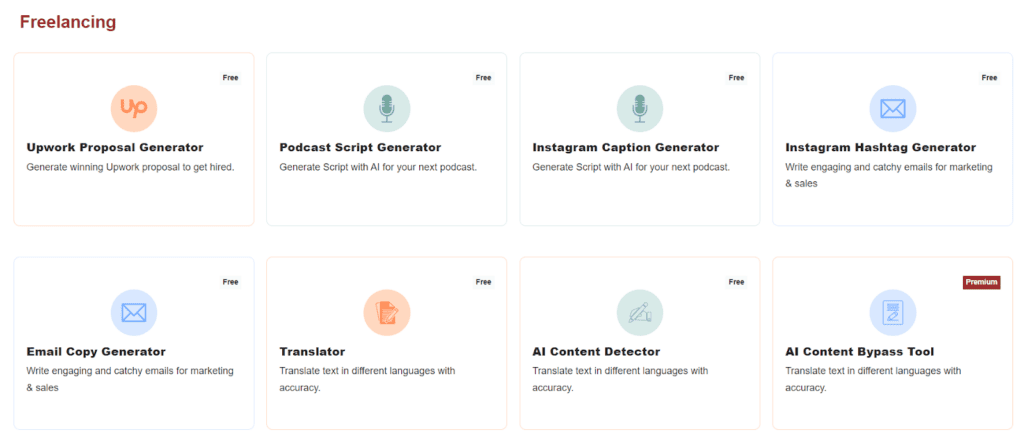 Upwork Proposal Generator
Podcast Script Generator
Instagram Caption Generator
Instagram Hashtag Generator
Email Copy Generator
AI Content Detector
Drawing Idea Generator
Business Idea Generator
Translators
For translators who are bridging language barriers, Paraphrasingtool.ai offers:

Translator
Speech-to-Text Translation
Speech-to-Speech Translation
Features of this AI writing tool
ParaphrasingTool.ai is more than a mere rephrasing tool. Using the prowess of artificial intelligence, it presents an expansive suite of writing and editing tools aimed at refining and elevating your writing endeavors.
Here's an in-depth exploration of the distinguishing features of ParaphrasingTool.ai:
Eight Paraphrasing Modes:
Free Rewriter: This feature offers a generous limit, paraphrasing up to 20,000 characters without cost, making extensive content rejuvenation a breeze.
Text Improver: Focusing on accessibility, this tool rectifies stylistic and structural discrepancies, ensuring texts are comprehensible and engaging.
Near Human: Emulating human finesse, this mode revitalizes text with a natural touch, eliminating the robotic undertones often associated with AI-generated content.
Plagiarism Remover (Premium): For content creators who prioritize authenticity, this tool ensures their writings remain distinctive and free from unintentional mimicry.
Creative (Premium): Writers encountering the dreaded writer's block will find this tool invaluable. It's engineered to stimulate creativity, ensuring the flow of fresh and original ideas.
Academic (Premium): Tailored for scholastic endeavors, this mode enhances the rigor and flow of research papers, making them more coherent and professionally toned.
Quill Text (Premium): Advocating clarity and precision, this mode crafts content that's not only concise but resonates with its intended purpose and audience.
Sentence Rephraser (Premium): With a microscopic focus, this tool redefines each sentence, elevating its impact and relevance.
Most Unique Features in Paraohrasingtool.ai
Audio Paraphrasing Tool: Leading the way in its niche. This tool transcends textual boundaries, allowing users to rephrase auditory content. Podcasters and multimedia creators will find this indispensable.
Image-to-Text Paraphraser: Digitization made easy. Extract and paraphrase text captured in images, breathing new life into printed or handwritten content.
Synonym-changing Feature: Dive deep into word-level customizations. A simple click reveals a spectrum of synonymous alternatives, facilitating precise expression.
Built-in Plagiarism Checker: Post-rephrasing, this integrated checker ensures your content remains novel and unblemished.
Tone Adjustment: Flexibility at its finest. Toggle between tones, be it casual, formal, professional, or playful, ensuring alignment with your audience's expectations.
Sentence Level Paraphrase Options: Choice is power. Every rewritten sentence is accompanied by 10 variants, placing control in your hands to cherry-pick the most apt phrasing.
Web Browsing Feature: Streamline your workflow. Search and pluck text from the web, and place it directly into the editor for immediate paraphrasing, all without ever leaving the platform.
In essence, ParaphrasingTool.ai is not just a tool but a comprehensive writing companion, aiding users in producing top-tier content with ease and confidence.
How to Use Paraphrasingtool.ai: A Quick Guide
Paraphrasingtool.ai is easy to work with. Simply follow the below-mentioned steps to use this tool for paraphrasing:
Visit the Tool:
Start by heading over to the Paraphrasingtool.ai website. You'll typically find a clean interface with clear navigation options.

Enter Your Text:
You see the text input box. It's usually prominent on the main page.
Copy the text you wish to paraphrase and paste it into the provided box.

Select a Mode:
Depending on your need, choose a paraphrasing mode. For instance, you might opt for "Text Improver" for general refinement or "Academic" for scholarly articles.
Moreover, you can also choose the tone option before paraphrasing your text.

Click 'Paraphrase':
Once you've input your text and selected a mode, simply hit the 'Paraphrase' button.
The tool will then process your content, and in a few moments, present you with a paraphrased version.

Review & Edit:
Scan the paraphrased text to ensure it aligns with your expectations.
Use the 'synonym changing' feature if you wish to change specific words. Just click on a word and pick a suitable alternative from the dropdown.
Support Our Affiliate Partner: Grab Your 5 day FREE-trial Now!


Also, you've the option for getting multiple sentence rephrase options to choose from. Simply select a sentence you want to rewrite, and the tool will show the multiple paraphrased sentences so that you choose what aligns best for your writing.

Copy & Use:
After you're satisfied with the paraphrased content, use the 'Copy' or 'Download' button to grab the text. You can then paste and use this content wherever you require.

Use Additional Features:
Explore other integrated tools like the plagiarism checker to ensure content uniqueness.
If needed, you can also dive into the BabuEditor for further refining and polishing.
Remember, while Paraphrasingtool.ai is a powerful tool, always review the results to ensure they match your intended tone and message.
Paraphrasingtool.ai Pricing and Plans
Free Plan
Paraphrasingtool.ai's free plan is the finest option for new users. It includes:
Access to the paraphraser with a limit of 20,000 characters input
Free rewriter, text improver, and near-human modes
Unlimited use of the synonym-changing feature
Audio, image to text and speech-to-text paraphrasing
Four-sentence rewrite options
Web browser
Solo Text Generation Plan
Text generation for up to 25,000 words with the monthly plan and 60,000 words with the annual plan.
Includes essays, stories, and blogs.
Monthly Price: $15
Annual Price: $144 (which equates to $12 per month when billed annually)
Solo Paraphrasing Tool Plan
Access to the paraphrasing tool for unlimited words.
Monthly Price: $7
Annual Price: $60 (which equates to $5 per month when billed annually)
All-in-one Bundle Tools Plan
Paraphrasing tool for unlimited words.
Plagiarism checker for up to 5,000 words with the monthly plan and 60,000 words with the annual plan.
Text generation for up to 50,000 words with the monthly plan and 600,000 words with the annual plan.
Free AI content detector.
Free AI content bypasser tool.
Monthly Price: $20
Annual Price: $192 (which equates to $16 per month when billed annually)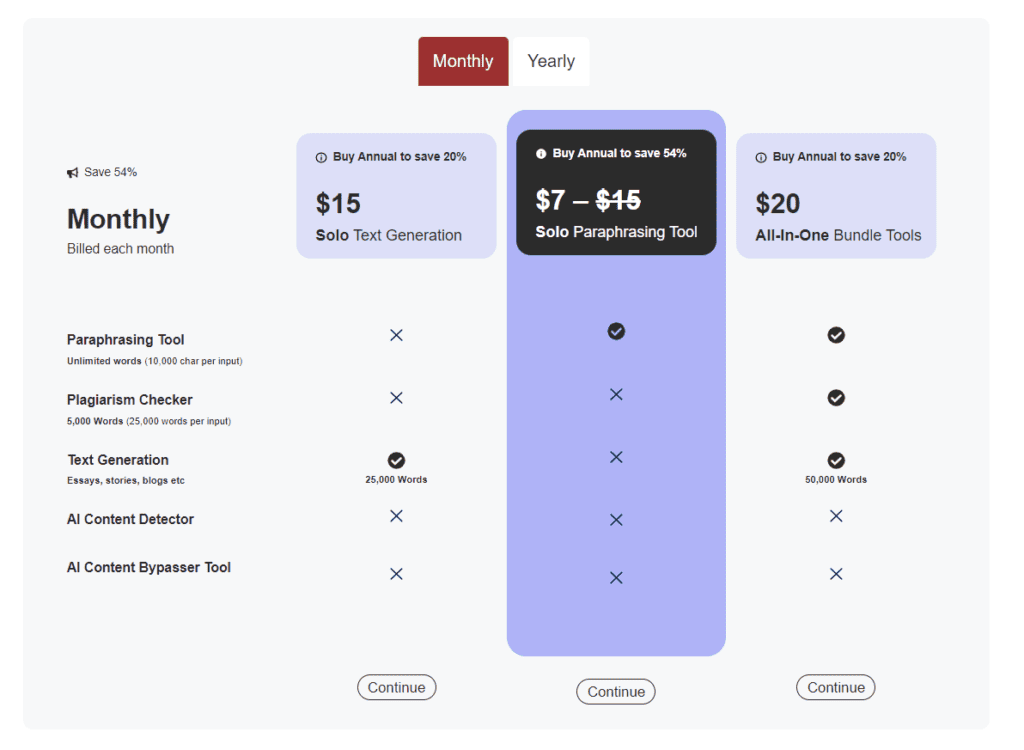 Conclusion
In sum, ParaphrasingTool.ai seems to deliver on its promise to be a comprehensive assistant for writers. It appears to be a meticulously crafted, intelligent, and adaptive tool that is keenly attuned to the multifaceted demands of modern writing.
Given its expansive set of features, competitive pricing, and innovative approach, ParaphrasingTool.ai is shaping up to be an indispensable asset for anyone looking to elevate their writing in 2023.
Whether you're a seasoned writer, a student aiming for academic excellence, or a freelancer looking to expedite content creation, ParaphrasingTool.ai warrants serious consideration.
It's not just a tool—it's a complete toolkit for writers.
If you're interested in AI writing, check out this article: AI Writing – Why Providing Value to Readers is the Most Important Aspect of AI-Generated Content.