Last Updated: 2 days ago by BrodNeil
If you are looking for a WordPress plugin to help boost your site's ranking on Google, RankMath is the best choice. It offers a free version of the software, 24/7 support, and many other features that make it a popular choice for many publishers. In fact, it has been downloaded over a million times and rated with an average of 4.9 stars.
Read on to discover why RankMath is an excellent choice for your site. And don't forget to download the free version! 
What is RankMath
RankMath is a WordPress plugin that can help improve your SEO. Like other SEO WordPress plugins out there, it helps optimize your content to rank better in search engines like Google, Yahoo, and Bing.
The plugin offers built-in suggestions and optimizes your content based on SEO best practices. It is ideal for both beginners, experienced and experts. It also lets you customize important SEO settings, such as which pages should be indexable, meaning content that can show up on the search engine results page (SERP).
Features
Some of RankMath's powerful and competitive features include the following:
Simple Setup Wizard
User-friendly interface
Content AI
SEO Analytics (Google Search Console integration)
Google Index Status
Google Analytics integration
Keyword Rank Tracker (against competitors)
Knowledge graph
Ranking Keywords for posts
Schema (generator, port, validation, custom builder, templates, various types of schema)
Keyword comparison and Google Trends tool
Sitemaps (XML, News, Video)
Automated image SEO
Local business SEO Optimization
WooCommerce SEO PRO
Complete Easy Digital Downloads SEO
Focus Keyword and Content Analysis
SEO Analysis Tool
Quick Edit tool
Bulk optimization
Top 5 winning/losing posts and keywords
SEO Overview of Site Content
Single Post SEO Reports
Email reports
404 Monitor
Link builder
Redirection Manager
Social media integration
24/7 support
Benefits of using RankMath
Below are the benefits of RankMath that make it the best WordPress plugin for SEO.
1. It boosts organic traffic.
Like other SEO plugins, RankMath can help boost your organic traffic by making your content more SEO-friendly. It offers a variety of features, from keyword suggestions to analytics, that will help improve your website ranking in search results pages.
2. RankMath is a lightweight plugin.
Plugins can slow down your website. The good news is that RankMath is lightweight and adds only 0.03 seconds to the loading time of your page. Since page speed is an essential factor in SEO, Rank Math would make an excellent choice if you want your site to load faster.
3. It offers a powerful free version.
Most SEO plugins offer a free version, but what makes RankMath stand out are the powerful features that come with its free version. For instance, unlike its competitors, it offers Content AI, Image SEO, Google Trends integration, WooCommerce SEO, and more.
4. It is very easy to use
While SEO can get complicated, RankMath makes it easier for bloggers to rank better in SERPs with its very simple interface, intuitive layout, and clear options. All modules are clearly laid out on the dashboard as shown below.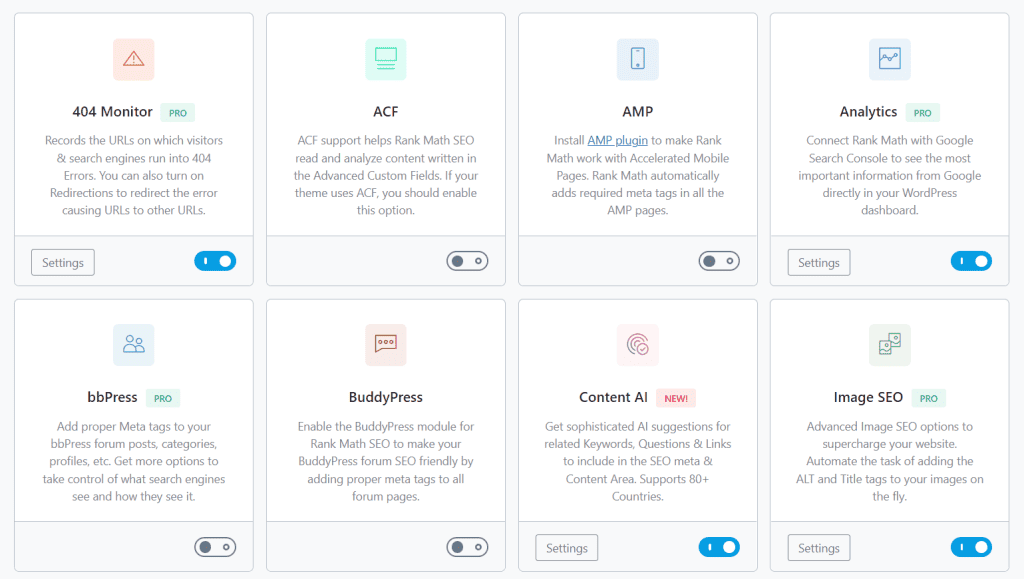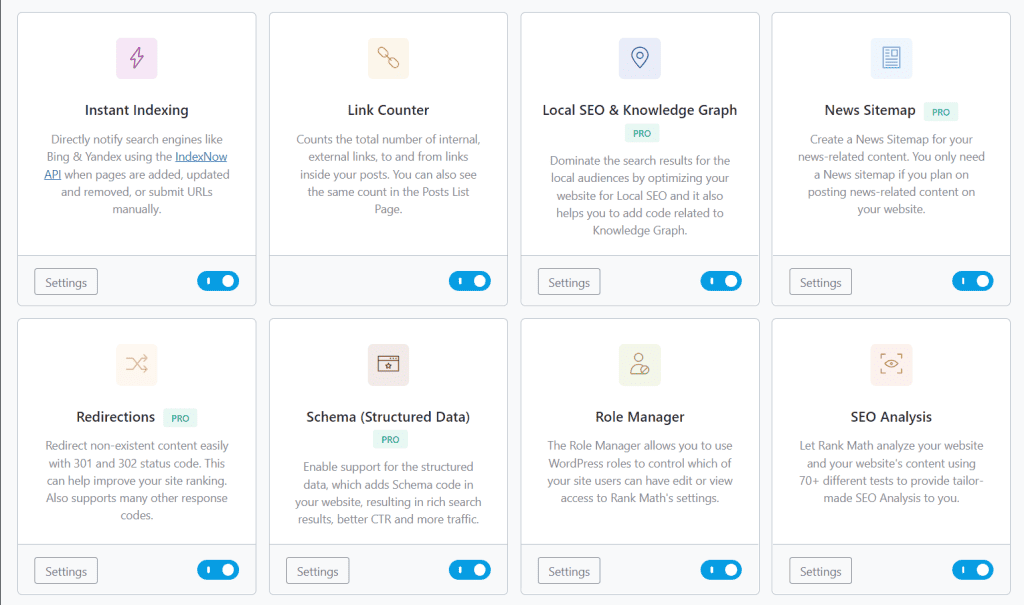 RankMath is an SEO software that allows you to analyze website pages and provide actionable data to improve your SEO. It provides a free version with limited features, and you can upgrade to the premium version for additional tools. This tool helps you optimize your site for search engines, including Google. It is also easy to use and configure, with webmaster profiles, social media accounts, and SEO settings. You can also use the software to track your rankings and keyword performance.
RankMath's free version has several useful features, including Automated Image SEO, Position History for Keywords, and Position History for Posts. You can view the complete features and choose whether to purchase the premium version or use the free version. However, the free version offers more features than the premium version. It, therefore, is better for people who are just starting to optimize their websites. The free version provides all basic functionality. However, the premium version offers more advanced and powerful features than its free counterpart.
Once installed, Rank Math automatically configures itself. The plugin wizard guides you through its features. You can also transfer settings from other plugins. You can then use Rank Math's SEO tool to optimize your posts. Exporting data from Google Analytics and other SEO tools is also possible. This software is ideal for professionals and bloggers wanting to increase their search engine results ranking. You can even choose to use the free version if you want to evaluate the benefits of RankMath.
If you're serious about SEO, you may want to upgrade to the pro version of Rank Math. Unlike Yoast SEO, Rank Math allows you to add more keywords and analyze more website elements. You can also edit the title of multiple pages or posts. The free version allows you to select up to five focus keywords. Still, if you'd like to use more, the pro version offers unlimited focus keywords. RankMath also provides LSI keywords that are related to the focus keyword. LSI keywords can help boost your search engine optimization.
Rank Math has an easy-to-use wizard. It provides an overview of the different modules and options. It offers an easy-to-use interface that allows you to optimize your site for search engines. It will also optimize your titles and descriptions for Google's key SEO components. It also helps you improve your site's speed and mobile friendliness, two important ranking factors for Google. Once you have optimized your website for search engines, you can improve your site's rankings.
RankMath has several features that allow you to customize your website's SEO. First, you can specify the Google Search Console and analytics account to integrate it with the SEO software. You can choose from various options, including anonymizing IP addresses and cookie-less tracking. Furthermore, the WordPress plugin lets you use a self-hosted analytics JS file that helps increase the PageSpeed score of your website.
You can use the free version of Rank Math for free to track key terms and keywords. You may also upgrade to the paid version to access advanced tracking capabilities. The paid version even integrates with Google Trends, which
It offers 24/7 support.
RankMath has great customer support. You can contact the customer support team with any questions.
Rank Math is a website optimization tool that allows you to track keywords and optimize content, images, and videos. Unlike many other SEO tools, this one automates the process, saving time and effort. The app has more than 15 modules you can customize to suit your specific needs. Rank Math provides comprehensive tutorials and guides and a 24/7 support line for any questions you might have.
Rank Math is fully integrated with the Google Trends tool, which allows you to compare keywords and identify new opportunities. It also features a handy XML sitemap to tell search engines which pages are on your site. It even can append metadata to videos. Rank Math offers comprehensive support, and it offers free demo versions. The 24/7 support team will also help you set up your custom XML sitemap for your video content.
While the free version has limited features, the pro version includes advanced indexing, tagging, and search engine following tools. The free version also allows you to disable the content preview available on several social media platforms. Moreover, you can add up to five focus keyphrases in the free version, but this limit is only one, so you may not want to use more than five. However, a pro account offers unlimited keyphrases.
Rank Math can store your Analytics data for six months. The platform also lets you analyze individual posts and gives you an overall SEO score. It also shows the number of hits, last access time, and average rank for a particular keyword or content. It also shows your content's overall performance, so you can track which posts earn you the most money. This is an excellent way to keep track of your content's performance and improve your website's performance.
Rank Math is extremely user-friendly and offers an intuitive interface. You can easily configure the plugin according to your needs and the best SEO practices. If you are an experienced user, you can try advanced mode, which gives you full control over its settings. And if you need to transfer settings from another site to your own, you can choose the custom mode. This option is beneficial to developers and SEO experts working on client sites.
If you're looking for a website optimization plugin, Rank Math PRO makes it easy. The orange button in the upper right corner lets you see your SEO score. It offers suggestions for further optimizing your post. In addition, you can also edit visible search engine snippets and set focus keywords. Plus, it provides detailed explanations for each checklist item. There are no gimmicks or confusing menus – RankMath is an excellent tool for beginners and professionals.
is a great way to determine what your competitors are doing.