Last Updated: 2 days ago by BrodNeil
Hunter is a tool that aims to help businesses find and verify email addresses from different companies and domains quickly. In this post, we will be sharing with you answers to some questions about Hunter, including what we think about it. Hopefully, it can help you decide if it's worth a try.
What is Hunter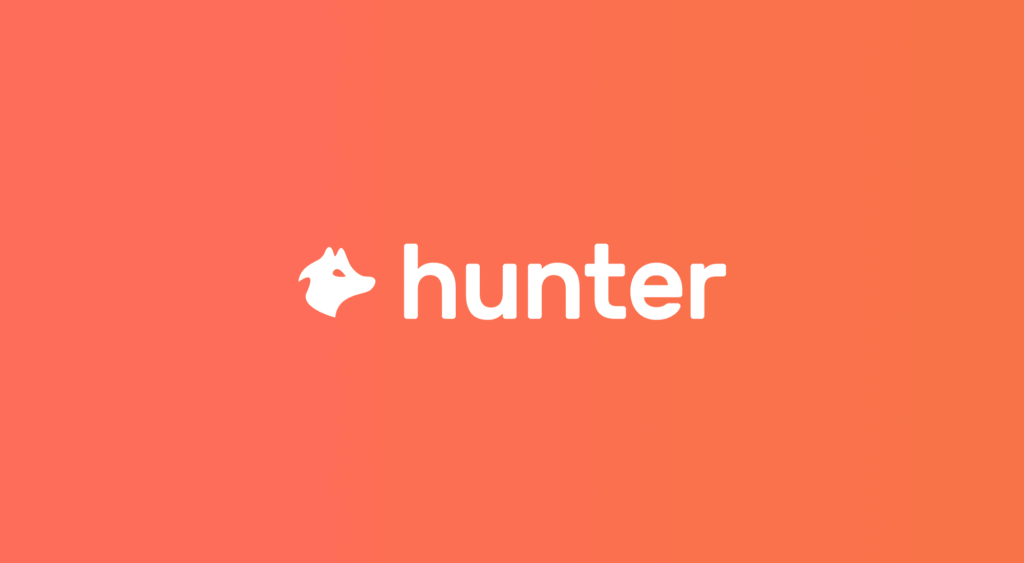 Hunter is an email search tool that can help you find and verify emails from different domains and companies. It can help you generate more leads and reach out to more prospects in less time, making your email marketing strategies more efficient.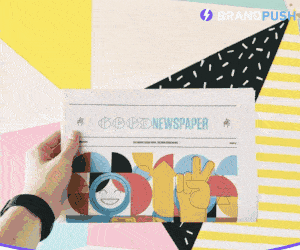 You can add Hunter as an extension to Chrome for easier access. It has an easy-to-use interface with other integrated features useful for your email marketing.
Hunter is a cloud-based based solution designed for all types and sizes of businesses. If you need a tool that can make lead generation easier and email marketing more efficient, Hunter can serve you well.
What are the features of Hunter
More than just an email generator, Hunter also offers other functions. Here is a list of Hunter's premium features:
Domain search – This feature quickly generates email addresses by typing in the domain name or company you want to search.
Email finder – The email finder helps you find a person's email address by entering the full name and the domain or company name of the person you want to search.
Author finder – This new Hunter feature generates details about the author, including email address, by simply entering the article URL.
Email verifier – This feature allows you to verify the validity and deliverability of email addresses.
Bulk tasks – With Hunter, you can perform tasks like domain search, email finder, author finder, and email verifier in bulk to save more time.
Hunter for Chrome – This Chrome extension lets you generate email addresses from the website you are currently browsing.
Google Sheets add-on – This add-on lets you find email addresses on your spreadsheet by domain search (single and bulk) or by the name or company of the person you want to search.
Gmail integration and campaigns – Hunter prepares cold campaigns that you can personalize. It also lets you schedule follow-ups using your Gmail account.
MailTracker – Find out who opens your emails.
How to install and use Hunter for Chrome
Hunter is also available as a Chrome extension. To install Hunter for Chrome, follow these simple steps:
Click on "Add to Chrome" in your dashboard.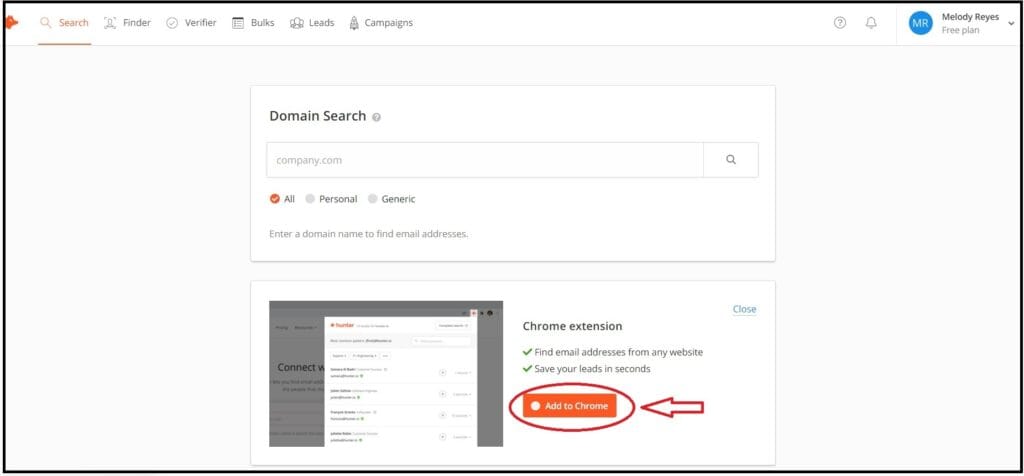 Once inside, choose "Add to Chrome."

You can also pin the Hunter extension for easy access.

Just click on the icon every time you are browsing a website, and you will find a list of email addresses for that website. You will also find the sources where the email addresses are from.
Support Our Affiliate Partner: Grab Your FREE Plan Now!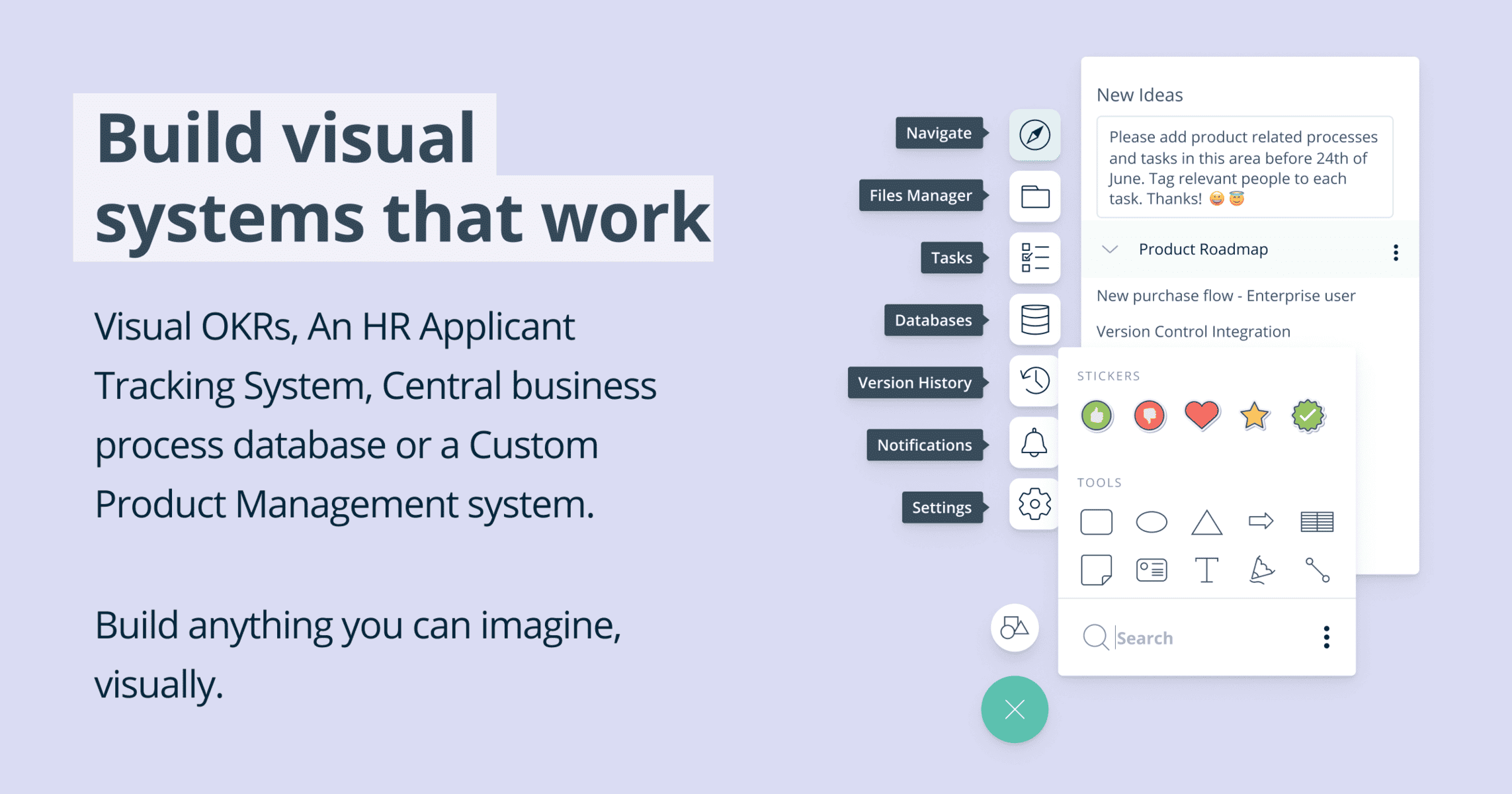 How to do bulk tasks in Hunter
One great thing about Hunter is that it allows you to do bulk tasks for domain search, email finder, author finder, or email verifier. Instead of typing in search details and getting results individually every time, you can input a list of information and generate a list of email addresses from them.
Please note that you can use the Bulk email finder and the Bulk email verifier with your FREE plan, but you need to have a paid subscription to use the Bulk domain search feature.
To access the bulk feature, go to the "Bulks" section in your Dashboard. Select the type of bulk task you want to use.
Let us use the domain search bulk task for our example.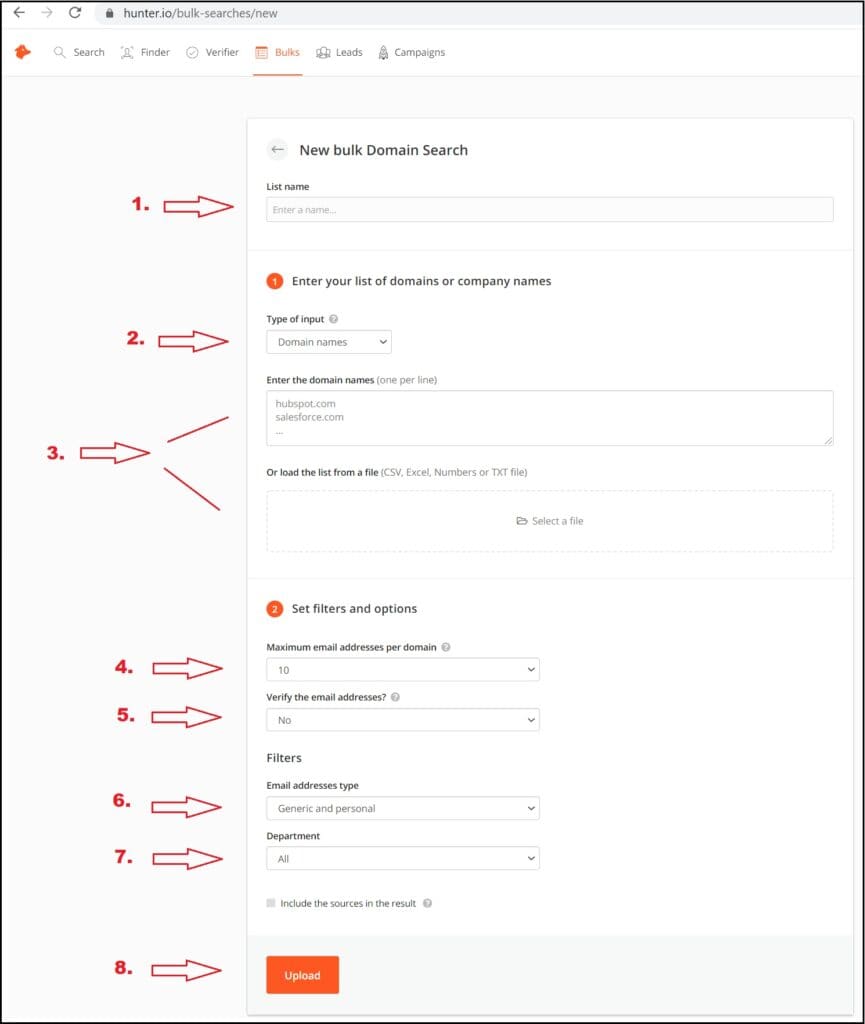 Choose "domain search" in bulk tasks and click on "new bulk" to generate a new search list. Then, follow these steps:
Create a title for your list under "list name."
Choose your type of input using the drop-down list. It can either be domain names or company names.
Type in the domain names or company names you want to search. Alternatively, you can load your list of names from an existing file.
Set the maximum number of email addresses you want Hunter to come up with per domain.
Specify if you want Hunter to verify the email addresses they generate.
Choose the type of email addresses you want to get (e.g., generic, personal, or both generic and personal).
Identify the department in the company you want to search email addresses from (e.g., all departments, finance, executive, marketing, etc.).
Click upload to start the search process.
You may then download your results when it has finished processing. Below is an example result provided by Hunter. The results include columns for the (1) email addresses; (2) domain name; (3) organization/company; (4) confidence score; (5) email type; (6) number of sources; (7) email address pattern; and the (8) first name, (9) last name, (10) department, and (11) position of the person.

How to verify after getting a hundred email addresses
If you want to verify a single email address, you can easily use the verifier tool in your dashboard. If you have tens or even a hundred email addresses, you can use the bulk feature and choose email verifier. You can enter the email addresses you want to verify in two ways:
Copy and paste the email addresses. Make sure to input only one per line or use a comma as a separator.
Upload a file with the list of email addresses. The file has to be .txt or .csv file. To avoid errors, please ensure that the file only has one column with only one email address per line.
Once done, click upload to proceed with the verification process.
Here are some things to remember when using the bulk email verifier:
You can only verify 200 email addresses per domain every 24 hours.
A file to be verified can contain at most 10,000 email addresses per bulk. Hunter will skip excess email addresses.
To avoid timeouts and errors, the file should not be over 10Mb.
Only professional emails are verified. Webmail addresses like Gmail, Yahoo, Outlook, and disposable emails are skipped.
Why verify the email addresses?
If the emails aren't being delivered because the email addresses aren't valid, this means a high bounce rate and low deliverability. This is not good.
With every invalid email sent like bounced emails and if sent repeatedly, the mail server could block your domain from sending any mail moving forward.
By verifying emails you can weed out the invalid email addresses:
Deactivated Accounts
Typos (Wrong Spelling)
Bounced Emails
How to integrate and use hunter.io in Gmail.com
Hunter is not only good for generating email addresses. You can also send emails to individual leads and create email campaigns for multiple leads with its Gmail integration. Here's how you can integrate Hunter in Gmail.
Sending an email to individual leads
You can send an email to individuals leads from your Domain search and Email finder search results or the Leads section in your dashboard. Look for the letter or mail icon next to an email and link your Gmail account.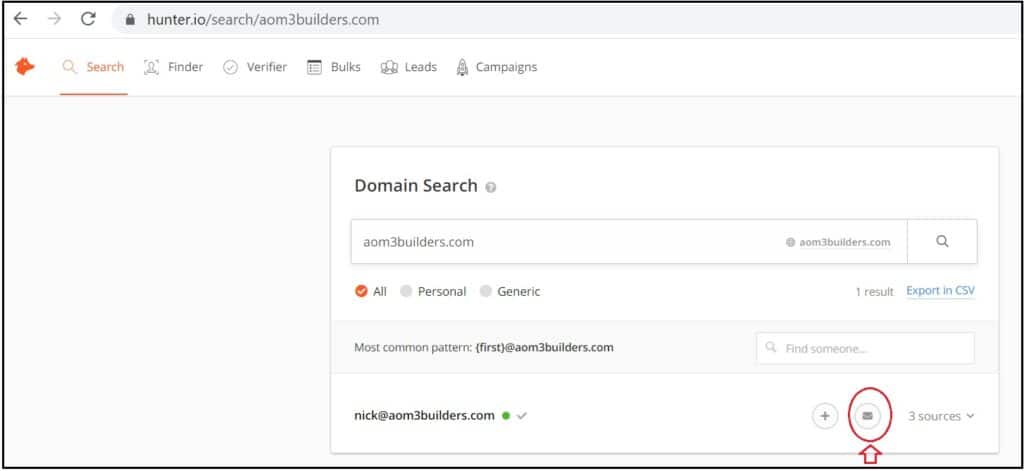 Once you have linked your Gmail account, you can now send an email to your new contact.
Sending email campaign to a list of leads
With a paid Hunter account, you can send email campaigns, including cold campaigns, to multiple contacts. Go to the Leads section in your dashboard. Look for the list of leads you want to send the campaign to and click on the "send a campaign" button beside its name.
Support Our Affiliate Partner: Grab Your 5 day FREE-trial Now!


You may click here to learn more: Gmail integration
How much does Hunter cost
Hunter offers four paid subscription packages, namely Starter, Growth, Pro, and Enterprise. They all provide the same premium features, varying only on the number of monthly searches and verifications. Rates may vary depending on whether you want to pay monthly or yearly. Yearly packages can save you 30% on rates. The price starts at $34 per month.
Hunter also has a free monthly package if you want to try out their service first, which you can upgrade anytime. The free plan includes 25 searches and 50 verifications. However, it does not include domain search full results, priority support, and other premium features.
Hunter monthly pricing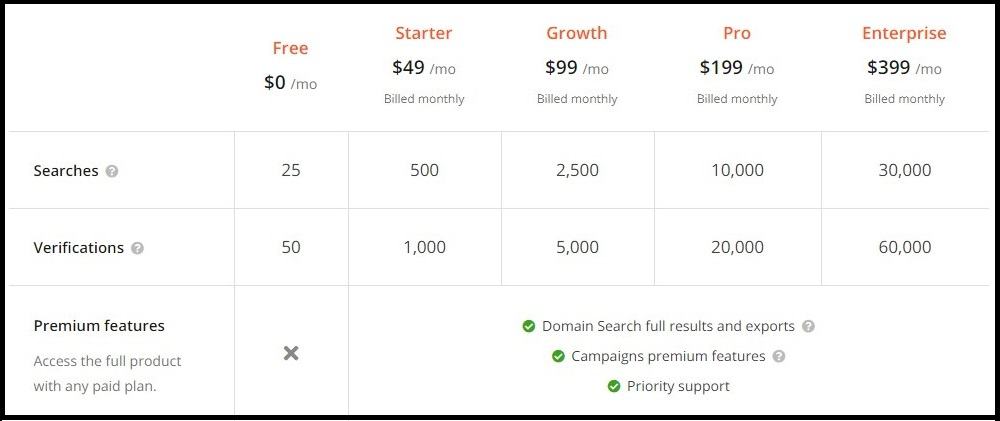 Hunter yearly pricing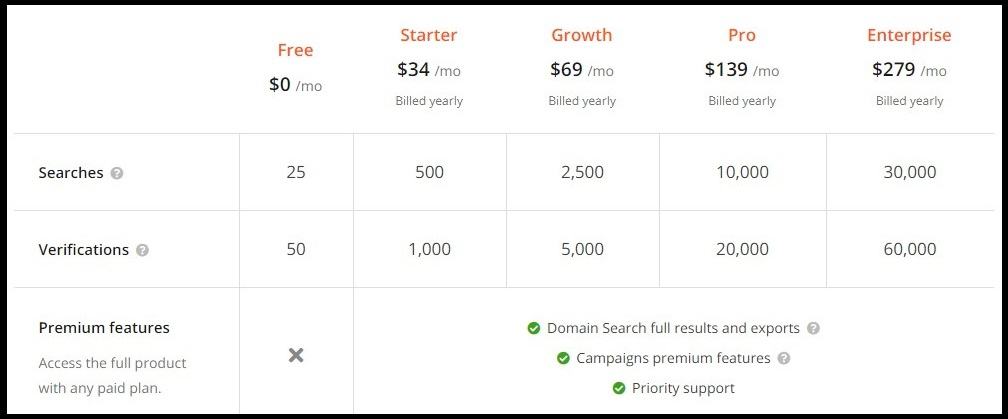 How many users are included in one Hunter subscription
The great thing about Hunter is that you can add as many users you want under one subscription. You just have to share the total number of searches and verifications for your subscription package.
As the subscription owner, only you can add team members. Follow these instructions:
Go to account settings by clicking the drop-down arrow on your profile.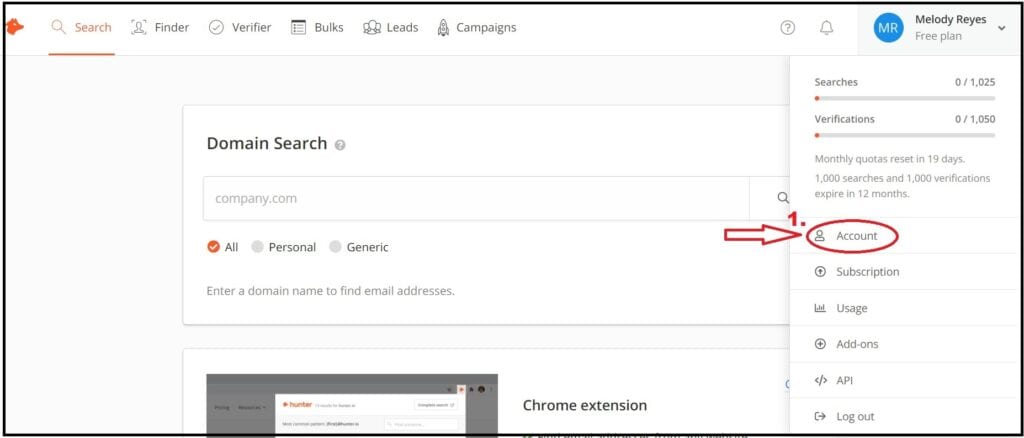 2. Go to team.
3. Click invite and add the email address of the team member you want to add.

What others think about Hunter
Here's what we have gathered from other users regarding their experience with Hunter.
Pros
A reliable tool to find emails from different companies and domains;
High accuracy of results;
Simple interface;
Easy to use;
Email verification works well;
Google Chrome add on is useful;
Provides other information, like name, position, and telephone number of a lead; and
Helpful customer support.
Cons
It might be more helpful with more integrations with CRM tools and other email platforms for the campaigns;
Some information are outdated;
Limited to business emails and cannot extract personal emails;
Cannot search with social media platforms;
No integration with Linked for email generation and sending campaigns; and
Customer support is not 24/7.
What we think about Hunter
So far, with our experience with Hunter, it is a reliable productivity tool for generating email addresses. The results generated depend on the available data in domains. Because of this, there is a chance you may not be able to find email addresses for some domains or companies.
What we love about Hunter:
Useful Chrome extension
You can verify the email addresses they generate.
They are transparent about their sources – about where they find the email addresses they give you.
The bulk tasks are very efficient to use.
Hunter serves more than just an email generator tool by allowing you to send emails and campaigns directly after generating an email or a list of new contacts with its Gmail integration.
User-friendly and straightforward tool.
They give helpful and easy-to-follow tutorials for different features.
Their free plan allows you to use and try many of its features.
What we don't like about Hunter:
So far, we are not sure what we don't like about Hunter. It probably has some limitations. For instance, its email campaigns only work with Gmail. Hunter does not also feature a LinkedIn extension, which could be very useful in business. However, they explained the reason for this – they need to comply with the terms and conditions of LinkedIn, which does not allow the use of any extension on its platform.
Conclusion
Is Hunter worth a try?
Based on our experience and others' reviews, we say Hunter is worth your try. It's easy to use and straightforward. They have a free plan that allows you to access many of its helpful features. The trial should help you assess if it can address the needs of your business and if upgrading to a paid subscription is worth your investment.