Last Updated: 2 months ago by BrodNeil
Snapchat Cements AR eCommerce as a Top Priority
Snapchat has acquired AR firm Vertebrae, which assists businesses in creating digital 3D copies of their products. It also announced a collaboration with luxury eCommerce site Verishop to bring a Snapchat-exclusive edition of Verishop's fashion and cosmetics catalog. Its products can then be virtually tried on and purchased directly from the platform via augmented reality.
In the United States, augmented reality shopping is still in its infancy. According to an April 2021 study conducted by Bizrate Insights for eMarketer, only 10% of US individuals have used AR or VR to shop, while another 35% are at least moderately intrigued.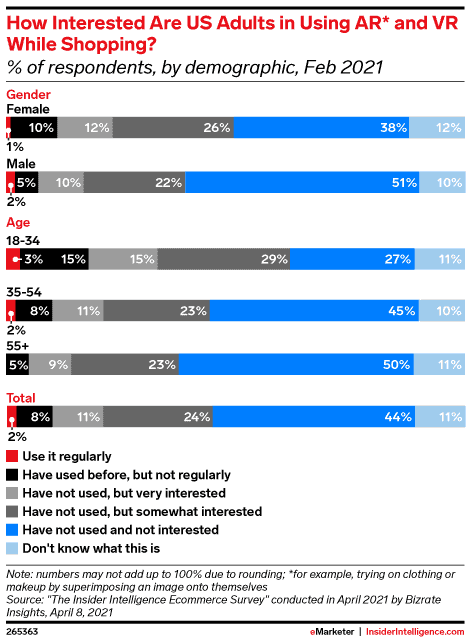 However, it can be highly effective for those who shop using AR. According to Shopify data provided by The Harvard Business Review, interacting with products via AR resulted in a 94 percent greater conversion rate than products without AR.
Key takeaways:
Snapchat has had augmented reality since the launch of its Lenses in 2016.
Snapchat's push into augmented reality ecommerce is something to keep an eye on during the company's Q2 2021.
Read more: https://www.emarketer.com/content/ahead-of-q2-earnings-snapchat-cements-ar-ecommerce-top-priority
---
Snapchat Announces New Updates for its Scan Tool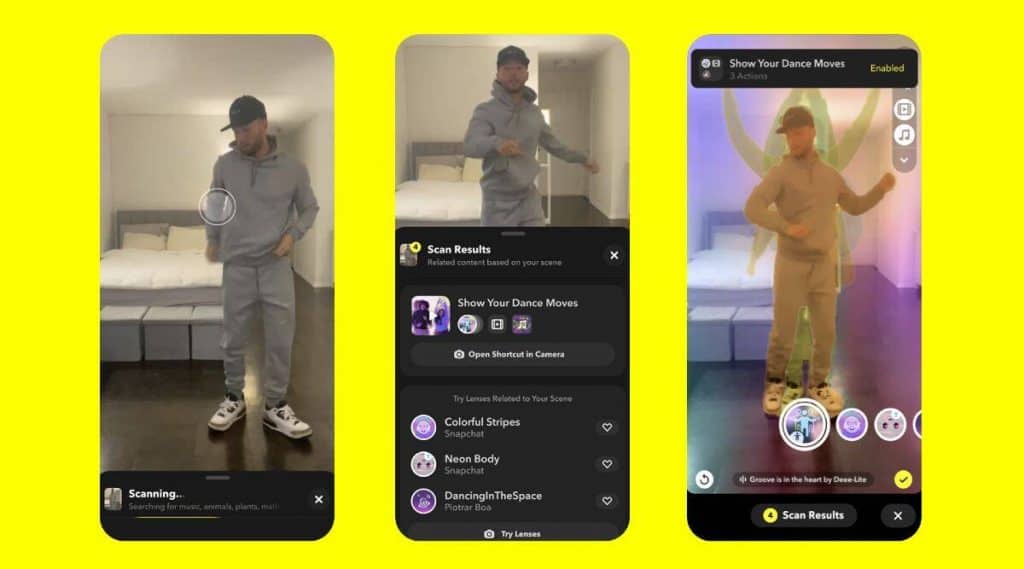 Snapchat has rolled out an update for its Scan features. The update will give users more opportunities to use the Snap Camera to discover more about more insights and take more immediate actions based on what they're seeing.
The Scan feature was first launched two years ago, giving its users yet another avenue to gather information through the app. Snap has continued to add more capability to the tool over time. With users becoming more acclimated to scanning barcodes as part of COVID-19 tracing activities, that behavior has become more routine, creating more significant opportunities for Snap's solutions in this regard.
Key takeaways:
Snapchat has moved the Scan feature to the app's main Camera screen, making it more prominent.
Snap is also launching a new shopping experience that will deliver exact product matches based on your scanned product image, available immediately through Scan.
Snapchat, like most social media platforms, has been gradually expanding its eCommerce capabilities and enabling more direct purchasing choices within the app.
Read more: https://www.socialmediatoday.com/news/snapchat-announces-new-updates-for-its-scan-tool-including-new-scan-shoppi/605666/
---
Snapchat Launches a New Certification Course to Aid in the Development of Snap Ads Expertise
Snapchat's Snap Focus education platform has introduced a new certificate course in ad optimization. This will give users another chance to hone their Snap advertising skills and demonstrate their platform knowledge in an official, recognized capacity.
Key takeaways:
Snapchat released its first ad certification course in July with its' Ads Manager Campaign Activation' program. It focused on split-testing, cross-channel measurement, and other critical parts of ad campaign setup.
The framework of the curriculum is divided into five major sections in this new course, which delves further into maximizing your results: Visualize Campaign Data, Troubleshoot Campaign Performance, Optimize Performance In-Flight, Apply Learnings to Future Campaigns, Get Ad Support,
Suppose you pass the final test (with a score of at least 80%). You'll receive this snappy digital certificate to show off your Snap advertising knowledge at the end of the program.
Read more: https://www.socialmediatoday.com/news/snapchat-adds-new-certification-course-to-help-build-expertize-in-snap-ads/609360/
---
Snapchat Spotlight Challenges
Snapchat Is Revamping Its Creator Payments by Introducing Spotlight Challenges
Snap today announced a variety of new tools, programs, and features that would allow producers on its platform to earn money as the race for talent heats up.
The Creator Marketplace has been expanded to include Snap Stars (top creators with verified accounts). In addition, the debut of a how-to resource called the Creator Hub and a new mechanism for Snapchat artists to get rewarded for generating short-form video for its in-app TikTok rival, known as Spotlight.
Key takeaways:
Snap's Spotlight Challenges will award cash prizes for the best-performing Spotlight content. A minimum prize of $250 will be awarded. Individual challenge reward pools typically vary from $1,000 to $25,000.
Rather than rewarding top-performing content, the challenges will be structured to encourage the use of specific Lenses, Sounds, or #Topics. These challenges will be featured on the "Trending" tab of Spotlight.
The addition comes after Snap creators highlighted their dissatisfaction with Spotlight payment delays earlier this year, as well as the shrinking amount of money they could receive.
Read more: https://techcrunch.com/2021/10/06/snapchat-revamps-creator-payouts-by-offering-chance-to-win-prizes-with-spotlight-challenges/