Last Updated: 3 days ago by BrodNeil
It can be frustrating to spend so much time trying to find someone's email address to no avail. In this post, we will share with you some secrets on how to find someone's email address on the web in seconds, as well as other helpful recommendations to find email addresses.
Table of Contents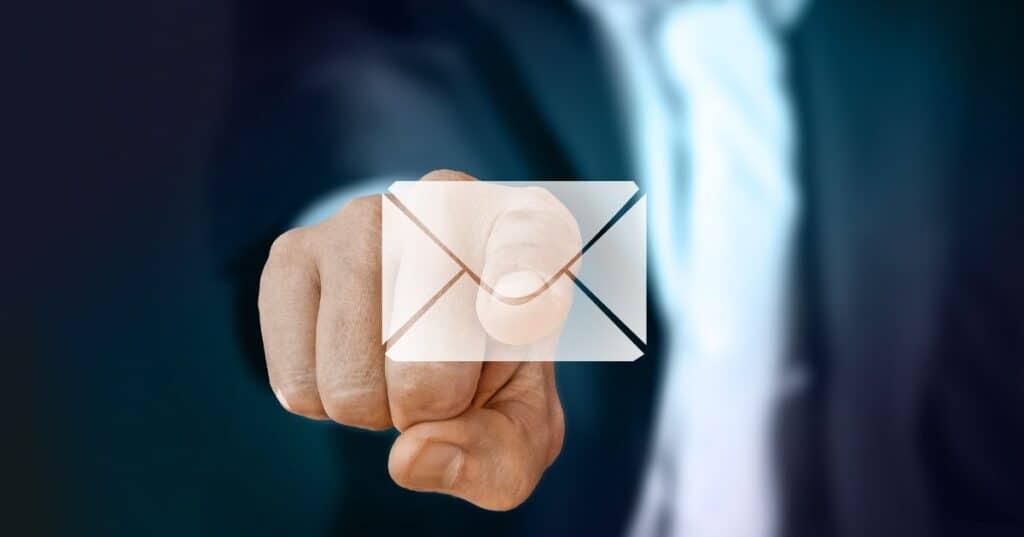 Email/Lead generation tools
Email and lead generation tools are a great way to find someone's email address on the web almost instantly. Apart from generating emails, many of these tools can also be useful for your other digital marketing strategies.
There are similarities and differences with these tools. It is important that you pick one with features that best fits your needs and your budget.
1. AeroLeads
AeroLeads is a lead generation software that can generate lead details, including email addresses almost instantly. This software is great for B2B businesses that can help find emails in bulk. Other features include:
real-time and quick extraction of data using Chrome plug-in
marketing-automated
generates data from LinkedIn, AngelList, Xing, and other supported social networks
can be downloaded as CSV file
can be integrated with different CRM platforms, such as HubSpot, Salesforce, MailChimp, and Zapier
generates useful information whenever available like email address, company title or position, company name, industry, company contact information, company location, business phone number, company website, personal contact details, and social media profiles.
AeroLeads offers a free trial. You can also subscribe to their services starting at $49/month. Check out their video below on how you can find someone's email address on the web in seconds.
2. Clearbit
Clearbit is a marketing data engine that you can also use to find someone's email address. This Gmail and Outlook extension can provide contact details, name, location, and address of prospects quickly and in bulk.
Clearbit also features other benefits including the following:
analyzes customer needs
identifies other possible prospects
integrates with other tools like Zapier, Salesforce, Marketo, Segment, Connect, and Slack
offers a variety of packages for different business needs
Clearbit offers a free package with up to 50 credit searches. Its paid subscription ranges between $199 to $999/month.
3. UpLead
UpLead is another B2B marketing platform available as a Chrome extension that lets you find someone's email quickly. This app is great for your marketing outreach campaigns with the following features:
has searchable lead database
offers 50+ data points
data enrichment availability
allows you to search the entire database and simply filter out the leads that you don't want to reach out to
integrates with CRM platforms, such as HubSpot, Zapier, Outreach, Zoho, Pipedrive, and more
You can try UpLead's free plan with 5 credits and enroll with their paid plans starting at $99 per month.
4. Snov.io
Snov.io is a great tool for finding someone's valid email address. It is able to verify generated email adds by categorizing them into valid, invalid, and Catchcall emails (guessed emails). Other features are as follows:
lets you find email addresses in bulk
comes with Chrome extension
charges only for verified email addresses
Snov.io packages range from $19 to $199. You can try their free package with 100 verified email addresses per month.
5. Anymail Finder
Anymail Finder is an email finder tool that claims to be 97% accurate in generating emails. In fact, they only charge for verified emails that they are sure won't bounce.
The software offers the following helpful features:
available as a Chrome extension
offers searchable database
lets you find emails by job titles
API available
You can try Anymail Finder for free with 20 credits. You can continue with your subscription ranging from $18 to $149 with up to 10,000 search credits per month.
Other recommended ways
If you think you don't really need any of the lead generation or email finder tools, there are still some ways you can find emails of people. These tips are especially useful if you only have an occasional need of finding other people's email or contact details. You can also use these tips to find someone's email address when you cannot find it using your email finder tool.
1. Google it
This has worked for me many times. If I could not find a specific person or department's email address on their company website, I try my luck with google.
You can do the following query formats:
[name]+email/email address
[name]+contact/contact me/contact details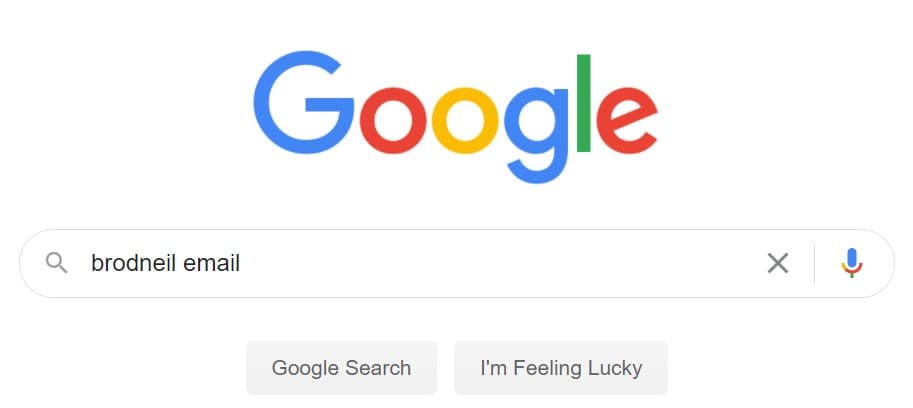 If you know the company name or website of the person or department you are looking for, you can also input it on the search box.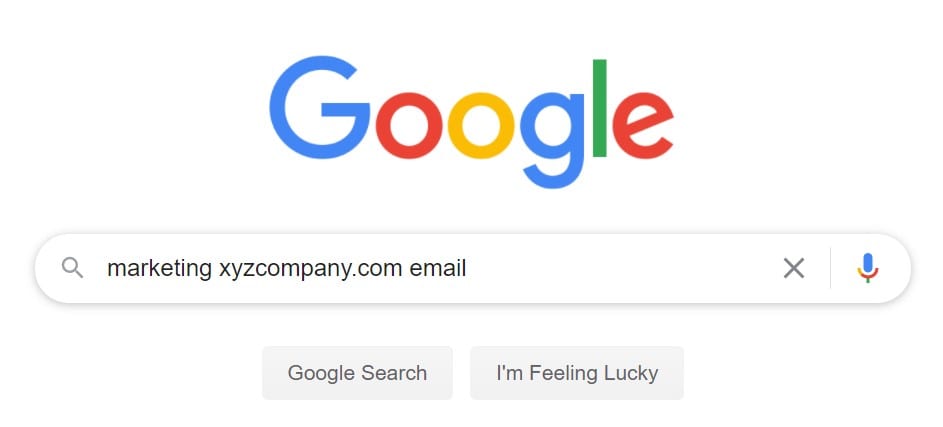 2. Use Twitter
There are two ways to use Twitter to find someone's email address. First is to simply reach out to the person or company and ask for their email address. The second way is to do advanced search. While the first one is self-explanatory, let us talk about doing the advanced search.
Simply go to "advanced search" or if you are in the Twitter home page, just go the search box found on the upper right corner, type in any word or character, and press enter.

Once you are in the results page, click on "advanced search" on the right.

In the advanced search, type "at" and "dot" on "all of these words" under "words". Under "accounts", type in the twitter account on "from these accounts". Press "search".


3. Reach out through the website's contact form or generic company email
Another convenient way to find someone's email address on the web is to directly ask the company through their contact form found on their website. You may also email the generic company email and ask for the specific email address of the person you wish to keep in touch with.
4. Subscribe to their mailing list
If the above tips don't work, you can try subscribing to a website or person's mailing list. Pretty soon, they will be sending you an email. You can then reach out to them using that email address they used to email you.
5. Make a guess
Making guesses can actually lead to some results. While this can be time-consuming, you can give it a shot. Compose a message in your email and type in your guesses in the "to" field. Move the cursor over each email address. The one that pops up with an associated Google profile should be a valid email address.
You can make guesses using the following formats shared by ahrefs.com: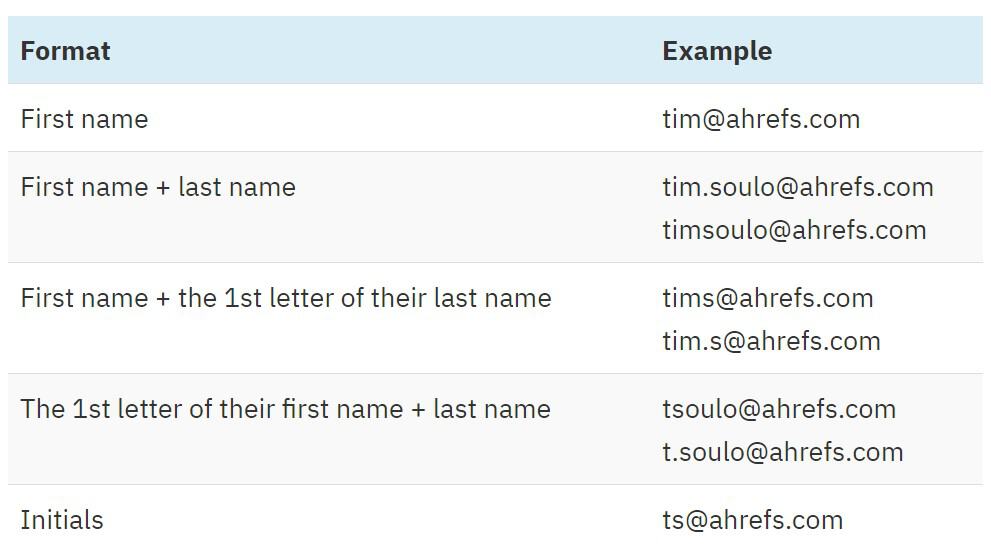 Conclusion
Finding someone's email address on the web instantly is possible using email finders and lead generation tools. If you are not into using these software, you can always know someone's email address using Google, Twitter, the company's contact form or mailing list, as well as simply making guesses.
Which strategy have you tried using? Tell us about it in the comment section.