A writer's content brief is like an architect's blueprint. It serves as an important guide to guarantee your content's structure and ensure that every necessary detail is addressed, tackled, and substantiated with cohesion. It is a pivotal phase of content creation that every content marketer/author must include in their writing process. After all, a well-planned content clearly shows!
What you'll find in this article:
What tools to use?
How to do it in Google Doc or MS Word?
How to do it using a tool like ContentStudio?
What tools to use?
As you write your content brief, it would be wise for you to keep in mind that part of your ultimate goal is to generate an audience and/or improve your SEO. How can you do this? You simply have to use the right keywords and/or phrases. This way, you get to amplify your content's chance of appearing every time people ask or search about your topic. Below are a few tools that you should consider using.
Google's People Also Ask
Google presents a useful section called "People Also Ask," also known as related questions. Every time you search for anything in Google, this small section shows up and presents the other frequently asked questions related to your topic. In this manner, not only can you get more clarity for yourself, but you also get to know what people are looking for, and hopefully write about them too.
Google's Keyword Planner
As mentioned, to get more traffic from Google, you have to do a keyword search. Generally, Google's Keyword Planner is a free research tool that allows you to identify what people are finding. Moreover, it gives you two options: (1) find keywords; and (2) get search and volume forecasts. Both can be very beneficial for you when used right.
Google Autocomplete
Google autocomplete must be the most exposed tool out of the three mentioned. It is a Google feature that begins the moment you type anything in the Google search box. Its algorithm is centering on the concept of giving predictions of possible search queries and showing a drop-down list of related words or phrases. These predictions are basing on factors like popularity and freshness.
How to do it in Google Doc or MS Word?
To do it in Google Doc or MS Word, make sure to outline the following factors first: goal, SERP's analysis, target audience, content idea, keywords, and suggested outline. To ensure easier tracking, turn all those factors as your heading 1.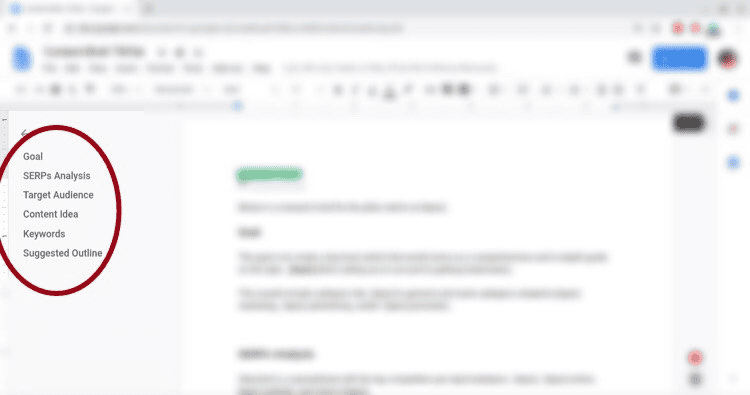 Goal
First and foremost, you have to determine your goal as this will soon serve as the heart of your content. You don't have to make it long, just be sure to be concise.
Example:
The goal is to create a top-level article that would serve as a comprehensive and in-depth guide on the topic, [topic].
This would include subtopics like [topic] in general and some subtopics related to [topic 1], [topic 2], and/or [topic 3].
SERP's Analysis
This section must entail the top competitors for specific keywords (topic/subtopic). It would be best if you would present an URL for each competitor to give you an idea of what their content is for the given keyword.
Learn more: https://mangools.com/blog/what-is-serp-analysis-boost-keyword-research
Target Audience
This section must show all the possible audiences that you'd like to engage with your article. This would later help you specifically design your content in a manner that will best attract, hook, and benefit them.
Content Idea
Just one sentence should be enough for this section. You just have to present your content's main idea.
Keywords
This section helps guide you in reevaluating your choice of words and/or phrases to ensure that you use relevant keywords for your niche. This is where you can make use of the three tools mentioned above.
Suggested Outline
After filling in and determining the different factors mentioned, you can now proceed to create your outline. Remember that an outline does not have to be too comprehensive. It simply has to reflect all the angles that you wish to present in the actual article. Unfortunately, there is no exact formula for this. It differs according to one's writing style. Just be sure to have your main bullets encompass your main subtopics.
Sample guide:
[topic 1]

What is [topic 1]?

Brief background/history
Demographics

Why is [topic 1] important?

[topic 2]

What is [topic 2]?

Brief background/history
Demographics

Why is [topic 2] important?

[topic 3]

What is [topic 3]?

Brief background/history
Demographics

Why is [topic 3] important?
How to do it using a tool like ContentStudio?
ContentStudio is a social media management tool that offers a number of features for your ease—from planning your content, making it, to even analyzing their reach. It is very promising, especially as you create your content briefs for your site. How? First, it offers over 12,000 topics that you can choose from and follow to get access to highly relevant content suggestions. Second, without the dire need for the three aforementioned tools, this site regularly scans through more than 4 million domains and offers a wide range of varied content. Ultimately—when used well, of course—this site can be your greatest investment!
Learn more about Content Studio: